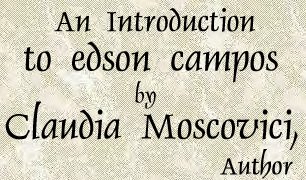 Edson Campos is an artist of amazing talent, innovation
and versatility. In an era where abstract and conceptual art
have become synonymous with artistic innovation--- Ironically,
for nearly one hundred years by now--- Campos dares to
dream; to see old traditions with new eyes. His exquisite
paintings, which celebrate technical prowess, beauty and
sensuality, inaugurate the beginnings of postromantic art.
Born in Rio de Janeiro, Brazil, Campos has enjoyed
sketching and painting since childhood. He is a completely
self-taught artist. He moved to the United States in 1978
where he quickly established himself as an artist of the
highest caliber. He has exhibited his lifelike, passionate
paintings and drawings in major cities throughout the
country, winning several awards. Not surprisingly, Campos'
sophisticated artwork also has great popular appeal: it has
been commissioned to be exhibited in all 500 rooms
of the Queen Mary Hotel in Long Beach, California.
Recently, Campos participated in the Art Expo New York,
where his work was highly praised by critics. The November
1999 issue of The Artist's Magazine featured his work in a
special section on painting techniques.
Introduction to the painting of Edson Campos

Picasso once complained:
"Everyone wants to understand art.
Why not try to understand the songs of a bird?
Why does one love the night, flowers, everything
around one, without trying to understand them?"
In voicing this objection Picasso was not, of course,
saying that we don't try to understand the biology
of life. He was only claiming that we don't try to
grasp its mysteries; to understand the whys not
just the hows of life in the same way that we try
to understand everything about art. Whereas, he implies,
life and art are both mysterious and nothing, no science or
analysis, can exhaustively explain them. Keeping Picasso's
objection in mind, perhaps the best we can do is try to
understand some of their components in order to better
appreciate the whole. Which is precisely how the painting
of Edson Campos needs to be approached. In alluding
to numerous artistic styles and periods, Campos's
works invite the analysis of their parts. But we can't
ignore their overall effect, which creates an entirely
new and fresh image of representational art.
As Picasso reminds us, in art, as in life, the whole is always
greater, more interesting and more mystifying than the sum
of its parts. This is certainly the case in Campos' art.

Consider the painting "Paradise."

In the foreground we see a young woman who
dazzles with her beauty. Her flesh tones; her slightly
ironic but unmistakably sensual pose; her bright
red hair all make her radiate with life before
our eyes. In her pose, in her look, she's recognizably
contemporary. Nonetheless, the almost classical folds that
ripple around her body evoke the stylization and
refinement of neoclassical and romantic art. The
background, a Japanese landscape, seems a perfect way to
foreground the young woman's beauty, while also taking
us to a third, even more distant, tradition
in art' the Japanese prints that, incidentally, marked
so strongly the works of the Impressionists. Campos
congruously unites, blends, juxtaposes the most time-tested
and respected traditions in art. He has a gift
for painterly allusion, for pastiche.

When we think of pastiche, however, we tend to
think of a mixture of styles that blends, often
incongruously, the old and the new to subvert the old
and highlight the innovation of the new. Rarely does
postmodern pastiche show a reverence and sensibility
to the previous art it assimilates; a sense of the debt
we owe tradition for the beauty created by masterful artists.
Campos, on the other hand, uses pastiche' a mixture
of styles; allusions to old masters' in a way that
shows a deep appreciation of tradition.

Which is why Campos' paintings, though distinctly
contemporary, have what I would call a timeless appeal.
Similarly to one of his favorite painters, Maxfield Parrish,
Campos depicts feminine beauty, sensuality and innocence
with such an irresistible vitality, visionary realism and appeal
that he democratizes once again contemporary painting. Since
modernism, art has become largely conceptual. It is created
primarily for the elite who can appreciate that art is
no longer about the object represented which could
very well be a brillo box or soup can we discard but
about subversion, thought, originality and provocation.

During the twentieth century, painters like Maxfield
Parrish and Balthus stood (for the most part) alone
in showing, through their exquisite images, that good
art can, indeed, still be about the artistic object and about
the obvious talent of the artist. Their work spoke for
itself: art could be accessible to everyone and
sophisticated at the same time. What such painters
may have lost in critical acclaim, they gained in popularity.
For at his apex, Maxfield Parrish was the most popular
artist in the United States. Edson Campos continues and
updates this tradition of representational art.

While being accessible and incorporating older traditions,
Campos's paintings are also conceptual and modern.
In many of his paintings, the artist cites the
work of famous artists he admires--including Leonardo
da Vinci, Vermeer, the Pre-Raphaelites, Klimt, Maxfield Parrish
and Magritte--to show continuity, not only rupture, between
past and present art.

To offer another example, in one of his paintings,
the mysterious gaze of Leonardo da Vinci's Mona Lisa
is mixed with a reference to the thought-provoking, haunting
surrealism of Magritte. Below them, we see a child-like
chalk drawing of a house and the image of a small cross and
a paper airplane in flight. Through them, the painting assumes
a light, playful, even ironic modernist tone. Yet in the
foreground, the painting exhibits the harmony of all its references
and previously juxtaposed influences. The sensual woman
that forms the fulcrum of the painting removes shirt with
a realism that touches upon pop art and postmodern neorealism.
Nonetheless, her flowing hair; her perfect, idealized sinuous body;
the signature classical white sheet surrounding her hips all hark
back to previous traditions.

The contrapposto and beauty of classical sculptures; the sfumato,
three-dimensionality and mystery captured by Renaissance artists;
the conceptuality of modern art; the playfulness and subversion
of boundaries of postmodernism; the timeless appeal
of beautiful women; the reverence for feminine sensuality,
innocence and grace, all these are respectfully saluted,
preserved and transformed for our times by Edson Campos'
unique postromantic art.